The EATTT series highlight SATG activities on the field and their impact on the lives and livelihoods of farming communities in Lower and Middle Shabelle regions, the agriculture sector and the Somali economy in general.
August – September Events:
Conclusion of the EATTT field work
To celebrate the end of the EATTT series that spanned three farming seasons, and to award the active members of the beneficiaries, SATG organized different events in Afgoi. SATG invited different representatives from different agricultural stakeholders.

These included:
Farmers (Smallholders and Commercial)
Farmers' Associations/Cooperatives
Extension workers from Afgoi, Bal'ad and Aw-dhegle districts
Local University students
Ministry of Agriculture
Prominent members of Somali agricultural sector
Other distinguished guests
The event involved workshops and a raffle where the prizes were the produce harvested from the EATTT fieldwork. The produce to be won included: Maize and Mung beans, forage crops like improved Sudan and Napier grasses. Other crops up for grabs were banana, lemon, Swiss chard, onions, carrots, and coconuts.
Awarding Certificates of Participation and Appreciation.
SATG  closed the event with an award ceremony to officially recognize the work and efforts of its field staff based in South Central Somalia. In a bid to acknowledge and thank all involved for their hard work and dedication, certificates of participation and appreciation were awarded to the staffers.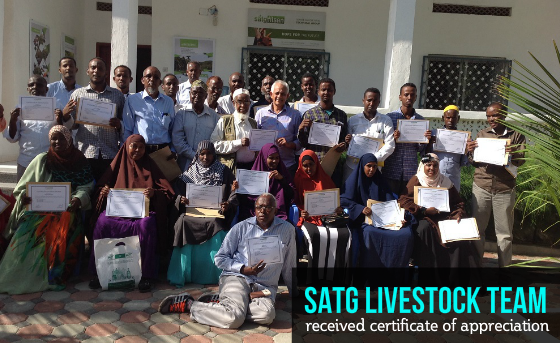 In the three farming seasons that this project took,  SATG has provided support and expertise to not only the farmers but also other stakeholders within the sector. SATG's main aim in this was to give the various stakeholders ( i.e. students, lead and contact Farmers, staff of the Ministries of Agriculture and Livestock) the opportunity to improve and increase their knowledge and practical skills by facilitating and teaching them practical and field experiences.
To other stake holders who actively participated in the program we say
Thank you for being part of the SATG family. SATG is honoured to share technical expertise with you and in return learnt a great deal from you too. You all made this project a great success.