Due to increasing land degradation and the declining of natural and communal grasslands of Somalia, it is essential to further develop, improve and increase the production and productivity of fodder crops through the introduction of new high yielding grass species.
The Somali Agriculture Technical Group (SATG) has been applying effective technologies in all its activities. In addition to improved fodder crops, SATG has also introduced improved high yielding food crop varieties. One of the introduced fodder species is Napier grass (Pennisetum purpureum), also known as elephant grass. This is a perennial species which makes excellent fodder for the livestock. The grass has been tested for three seasons at the Agribusiness Incubation Centre (ABIC), Afgoi and has proven to be excellent in the Somalia growing conditions.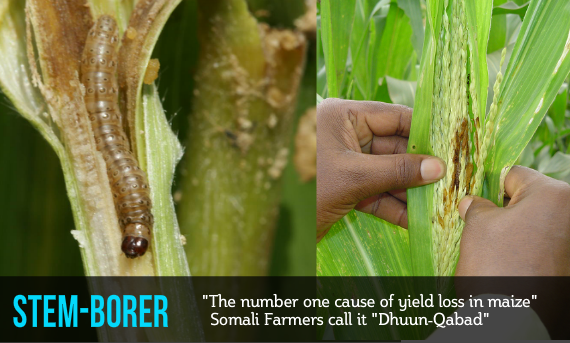 In addition to providing high nutritious fodder for the livestock, this plant has many other remarkable advantages. It can be used to reduce the devastating effects of stem-borer, the number one cause of yield loss in maize. The Somali farmers call this pest 'Dhuun-qabad'.  
Napier grass is very well suited for the 'Push-Pull' technique; an ecological based pest control system developed by the International Centre of Insect Physiology and Ecology (ICIPE) in Kenya and Britain's Rothamsted Research in cooperation with other partners in Eastern Africa.
In this system, Napier grass is used as 'pull' plant, whereas Desmodium is used as the 'push' plant. The Napier grass attracts the stem-borer moth to lay their eggs. When the eggs hatch, the larvae begin feeding on the Napier grass.This is called a 'pull' plant because it draws the pest out of the crops and kills the insects when they attack the plant by emitting some chemical substances. This system works more effectively when incorporated with other 'push' plants such as Desmodium, a repellent plant that 'pushes' the pest away from the maize field.
This 'Push-Pull' technique is much cheaper and more sustainable for farmers than buying and applying pesticides and insecticides. In addition, the Desmodium is a nitrogen fixing plant that will help enrich the soil with nitrogen and the Napier grass can be planted alongside the crop fields as wind and firebreaks.
SATG believes that the solution to challenges of the agriculture community will not come from a single approach but rather from the smart use and integration of effective technologies that are well tried and locally tested. The 'Push-Pull' approach can bring about suitable and feasible solutions needed by the Somali farming communities.