As of 2012, Somalia has been the 12th largest producer of sesame in the world, giving the country a substantial role in the global sesame trade. Despite major constraints such as civil strife, lack of investment and lack of policy and regulations, sesame production in Somalia has actually increased by seven-fold since 1991.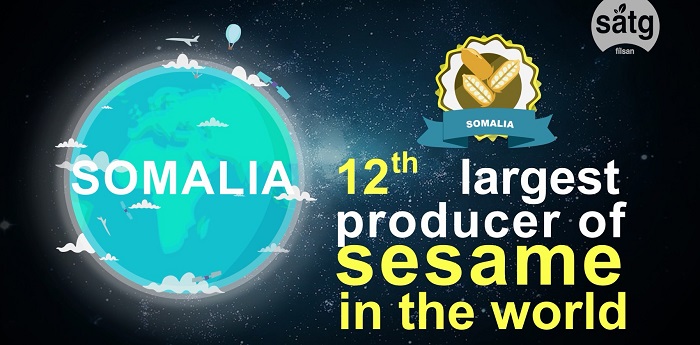 Sesame Investment Opportunities.
Sesame is an incredibly resilient and stable crop in Somalia, hence, the reason why it is grown traditionally. Crop growth requires a short rainy season (Deyr), followed by a longer dry season (Jilaal), conditions ideal in Somalia's climate.
"Annually, sesame revenue in Somalia is estimated at $300 Million US, accounting for 5.25% of the country's total GDP of 5.71 billion US (2014)"
Currently, the sesame value chain in Somalia requires strategic adjustments in order to keep it balanced and sustainable. Studies conducted by SATG estimate that 50% of the sesame producers have no formal education. A lack of knowledge in the input and production segments of the value chain has been supplemented with other constraints such as poor seed quality and the constant threat from pests and diseases. Furthermore, constraints in the value chain are not only found within the input and production segments but also from all other segments of the value chain which include:
Brokers
Traders
Processors
Wholesalers/exporters
End markets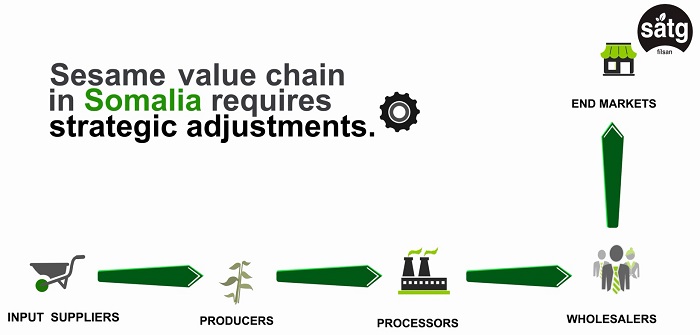 General overview of Sesame value-chain.
In Somalia, all sectors of the sesame value chain are underdeveloped in comparison to other sesame competing countries. SATG has identified various constraints related to production, finance, price fluctuation, and low-quality standards which have affected the entire value chain.
In response to these challenges, there is a growing need for knowledge based initiatives which focuses on passing down expertise to grassroots. There are investment opportunities to introduce high-quality machines (for seed cleaning and oil extraction) with efficient processing capacities in order to satisfy local and international market needs.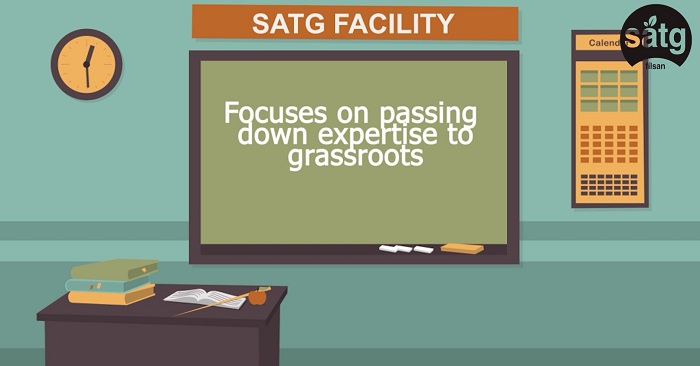 The sesame value chain has also created opportunities for financial services, with such a large sector in need of pre-financing.  Finally, it has also created openings for branches of government such as the Ministry of Commerce and Industry to put into effect legal requirements such as import/export licenses, or granting certificates with strict quality control measures in order to maintain an authentic value chain.
Sesame has huge potential in Somalia and can bring about investment opportunities, for both local and foreign markets. Finally, a well-structured value chain creates employment opportunities, especially for the women and youth of Somalia, a goal SATG prides itself with.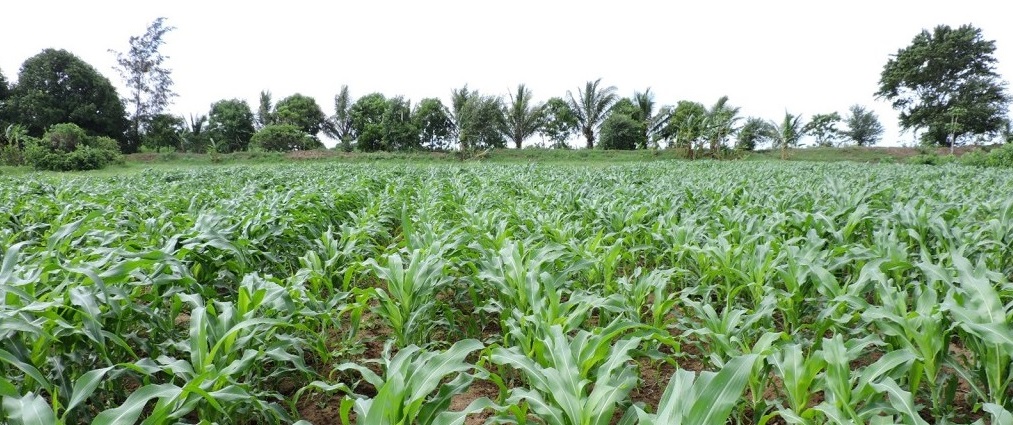 Drought stress Drought stress can be extremely damaging to crop production systems, and with global climate patterns changing, it is becoming an increasingly important food security issue.  The horn of Africa is highly vulnerable to drought stress.  Somalia, which...
read more